Supporting Local Restaurants through Takeout
McCue Engineering Contractors recently introduced a new initiative to boost team morale and support local restaurants in our communities during COVID-19: Local Chew with McCue!
Through the Local Chew initiative, McCue bought staff members a takeout meal from a restaurant in their neighbourhood so that they could stay safe – and well-fed – while supporting local restaurants.
Supporting local restaurants is essential to helping our communities stay resilient through the pandemic. Small businesses are essential to the economy and to the unique culture of our neighbourhoods, but many have struggled to stay afloat during COVID-19. Restaurants have been particularly affected because the increased risk factor of dining out has required stringent safety measures. New Public Health Orders have mandated that dining move to outdoors, takeout, or delivery options while case numbers remain high.
Getting takeout can be a great way to support these small businesses while staying safe, and it's always nice to have a break from cooking!
"It's great for employee morale and helps businesses who have been hit hardest by the pandemic." said President and CEO, Chris McCue "Vancouver and BC in general are known for their great 'Foodie Culture.' A lot of it is thanks to our multicultural and diverse communities. We are lucky to experience some of the world's most amazing cuisines in our local neighbourhoods."
As well as having great reception from our staff who got to participate in Local Chew, this initiative was also popular on McCue's social media pages where other community members showed their support. We would like to challenge other businesses less affected by the pandemic to participate in their own Local Chew initiative. This simple act can help boost team morale while supporting those who may be struggling more during this time. Many small businesses are owned and operated by locals, so programs like this directly support the people in our communities.
Local Chew Highlights
Our staff enjoyed Local Chew with McCue last week and here's a taste of what they had to say – and what they had to eat:
Kelly Van de Keere
Provence at Marinaside… beautiful patio looking over the marina in Yaletown. Our favourite Sunday brunch place.
Alejandro Gomez
We picked the food up at Yu Xiang Yuan Restaurant and went to the park under the cherry blossom. It is a traditional Japanese practice to eat & drink under the cherry blossoms when they are fully bloomed.
We chose this restaurant because we've been there and you can see the noodles when they are made just before they serve you, which is pretty cool! Also, can't recommend enough the incredible food they make!
Cecilia Garcia Marra
The initiative is really thoughtful to support local restaurants and it's also a great reward for us the employees. I have personally been working long hours later and finding time to cook is hard, so this definitely helps!
It was my first time trying out Medina. I've heard great reviews of the place but never got the chance to go in person, so I used this opportunity to taste their food at home. The food was good, big portions that lasted for more than one meal. Restaurants get or lose points with me based on packaging, they did quite well: paper bags and the food containers were aluminum and paper – compostable is always better but when not possible at least these are recyclable after washing them.
Jordyn Van de Keere
My lunch from Per Se Social Corner. 
Esma Al-Autman
At the New West Shops Plaza, just below the New Westminster Skytrain Station, there is this amazing sushi place called Kushi Mura Japanese Izakaya. 
What I really love about this place is their modern twist to some classic Japanese dishes, yet they still keep it to their roots by offering some of the favorite traditional maki rolls, cones, donburi, sashimi, you name it – offered in combos, platters, and lunch boxes too! Although I very much missing dining inside enjoying the decor of the cherry blossoms representing the traditions of Hanami – viewing the flowers while enjoying your meal – I am very appreciative that the business is still operating under COVID-19 mandated restrictions and they are doing their very best to continue offering quality customer service while taking responsibility to ensure the public's safety in dining out. 
Kushi Mura also has a patio that will likely open up soon to enjoy outdoor dining, but with this restaurant being at the hub of New West, it's easy to take the overpass to have a socially distanced picnic at the New Westminster Waterfront Esplanade Boardwalk and enjoy the beautiful garden box displays. The New Westminster Pier Park has recently opened as well. You can sit on the grassy field and enjoy views of the Fraser River, where the tugboats pass by. 
Tyler Blake
Since moving to the Seymour area, we have been wanting to check out the Arms Reach Bistro located in Deep Cove as they have some great reviews and location. Unfortunately, we have been primarily eating at home due to the pandemic so this was a great initiative to support local restaurants. The food was very good and we will certainly be going back. We both enjoyed chicken penne in a cream sauce with garlic bread and a tiramisu cheesecake for dessert
Romick Bhatti
This is such a clever idea. What a nice way to support struggling businesses. My choice was Akedo Showten Ramen + Gyoza in Langley. One of my favorite local spots in Langley, and the best ramen in Metro Vancouver by far! 
Kareena Gill
We ordered from Tasty Indian Bistro as it is our favorite restaurant to order Indian food from. They have the best comfort food ever and always remind us of food back home.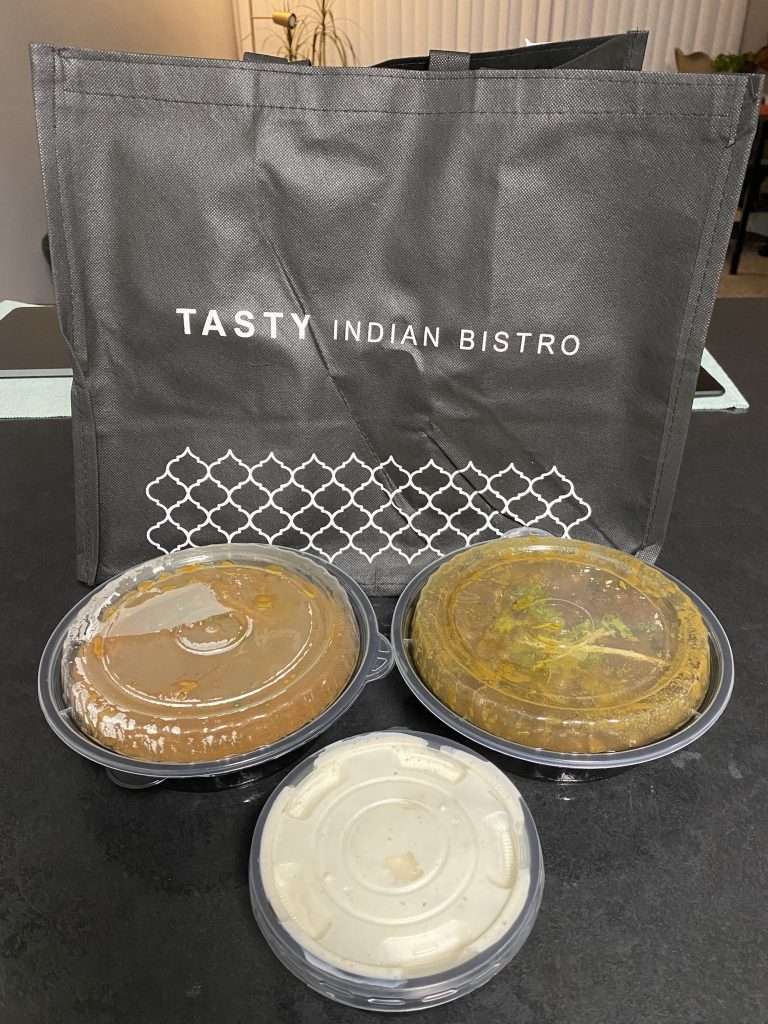 Adapting to COVID-19
Along with supporting local restaurants through Local Chew, McCue has worked on other initiatives during the past year to help keep our team connected while working apart. 
Our business is considered essential, so thankfully McCue has been able to continue operating throughout the pandemic, but things have looked very different than usual. We have worked hard on developing and implementing a COVID-19 Operation Plan to ensure the best practice of health and safety procedures on project sites and within business operations.
McCue quickly adopted new provincial and corporate requirements, without compromising the quality of our work or the standard of our procedures. In March 2020, we were able to deliver equipment for an ongoing project on schedule by rapidly adapting work protocols. Crew travel and work procedures were also adapted to the new requirements so we could continue working on site, which allowed us to commission a new system in May 2020.
Working from Home
Since the inception of the company back in 2000, McCue has allowed staff to work from the office or from home, so the transition to fully remote was an easier process than it was for many. 
However, as many people know, maintaining a great connection to a team while working remotely is a challenge. At McCue, we are like a family, and it has been hard not seeing each other face-to-face but we have kept the smiles and the support going throughout. We are always trying to stay connected and engaged with each other, whether through video calls or through other initiatives like Local Chew.
We have been lucky enough to continue operating through these times as we are deemed essential, and we have had a few new hires during the pandemic to help with the workload. These new team members have not been able to meet everyone in person, so we have worked extra hard to build these relationships virtually.
Celebrating McCue's 20th Anniversary
McCue's 20th Anniversary was in mid-2020, so celebrations were obviously different than expected. Typically, we would host it at the office in Delta and invite clients to join us for a barbecue lunch, but this had to change to keep everyone safe and healthy.
Instead, our staff got together virtually to make a video in celebration of McCue. Everyone shared their thoughts on what they enjoy most about the company, how they would describe it, and even what ice cream flavour they think best suits us. 
It was great to see everyone's faces and reminisce about challenging and memorable projects the team faced together. Staying connected like this is a great way to boost morale. 
The footage from the anniversary was cut down into a 7-minute video on our YouTube channel, showcasing the culture and team spirit we have at McCue.
"Everyone had a blast with the questions we put together for McCue's 20th anniversary virtual video celebration. There was a lot of laughter, so it was really nice to see everyone smile during these unprecedented times." said Esma Al-Autman, Director of Marketing and Business Development. "What I found the most compelling was the team remained in high spirits and it really shows the strength in the relationships built with our employer. This company really does make me feel like a part of a family, where everyone is friendly and supportive towards one another. We need this, and we continue to foster a positive culture and employee morale to get through these challenging times." 
Virtual Christmas Party
Just like with our anniversary party, McCue's annual company Christmas party was not the typical celebration. Every year, the party is hosted at the Terminal City Club in downtown Vancouver, but to stay safe and to abide by provincial health orders, we decided to host a Virtual Christmas Party instead.
Since we couldn't go to Terminal City Club, we had them send a holiday gift of wine and cheese to everyone at McCue for the virtual event which is another great way to support local restaurants. On a Friday evening, everyone enjoyed their gift baskets together, and what was originally meant to be a 2-hour video call turned into 5 hours of fun and shared memories. We even joked about holding a "Christmas in July" to make up for the missed party!
---